It's that time of year again.
We're at the National Rifle Association Annual Meeting in beautiful downtown Indianapolis. I've not been to Indianapolis before, but will be back. The downtown area is fantastic. It's filled with old buildings refurbished with modern interiors. Stores, restaurants and hangouts – it's a great town for a convention. Indianapolis has clearly rolled out the welcome mat. The people are friendly and there's been a strong police presence to help manage traffic and crowds. Most of them have been asking attendees about all the new products they saw inside. Officer Friendly lives here.
As there will be a million and seven articles about the newest mainstream products, we'll be covering the more unusual and interesting offerings here over the next three days, so stay tuned for end of day updates. Let's take a look at some Day 1 finds.
A Sixpack of Pure Fun From the Target Factory
This booth display stopped me in my tracks. Why? Shooting reactive targets is simply way more fun than shooting holes in paper. While there are plenty of "reactive" targets that are fine for outdoor ranges, I don't know of many (any?) that are OK to use at indoor ranges.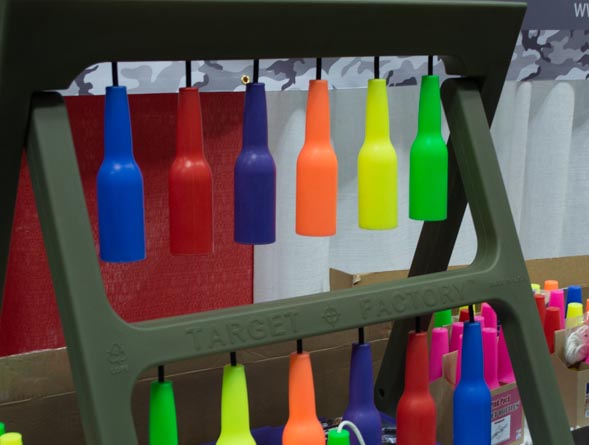 The NRA Target Bottles are made from a "plasticky" material that allows bullets to pass through, creating only a smaller-than-bullet-diameter hole. Unlike the outdoor target cubes, these are ultra lightweight. You can hang them from a Target Factory frame made of the same material, or, if you shoot at an indoor range, you can use the Target Factory adapter and hang some bottles from those motorized target hangers that zoom back and forth.
You know these come in six packs, right? Spares are packaged just like your favorite long neck beer or glass bottle soda. They'll handle most any caliber from .22LR to .50 and you can shoot each bottle hundreds of times before it's destroyed beyond recognition.
 It's one of those "why didn't I think of that" ideas. Brilliant.