I've just started a new gig, as if juggling 17 projects at a time isn't enough… I'm honored to be contributing a regular column at Beretta USA's new blog. I own a number of Berettas, both pistols and shotguns, and will be talking about training, practice, recreational shooting and having good old-fashioned fun with shooting sports.
Here's a link to the first article with suggestions on how to concealed carry a full-size gun like the Beretta 92FS:
Got big guns? I do.
Because I like big guns and I cannot lie. While liking big guns may sounds like a macho thing, it's really the opposite. Two of my favorite big guns, the Beretta 92FS and the Px4 Storm, are the same caliber as plenty of smaller guns chambered in 9mm and .40 S&W respectively. They're just larger. And that's where the reverse macho element comes into play.
A larger gun is easier to shoot. You can get a good, solid grasp on it. It's got a longer sight radius, so aiming is easier. The larger weight and size soak up felt recoil. When you add all that up, big guns shoot lighter and more comfortably than small guns. Heck, when I take a new shooter to the range, the first thing I steer them to, after some practice with a .22LR like the Neos, is the biggest gun they can properly hold – ideally chambered in 9mm. Why? Because I know it will be kinder and gentler to them. Less blast, less muzzle jump and less felt recoil.
As far as I'm concerned, there are lots of benefits to big guns, but only one drawback. That disadvantage is ease of concealment. If you carry a concealed gun on a daily basis, a large gun is more work. Not just in terms of weight, but the longer grip and barrel present more "bulk" that needs to be hidden away in your clothes. Depending on your lifestyle and daily activities, there are a number of ways to comfortably, and effectively, conceal a larger gun. Let's consider a few.
Hybrid Inside-the-Waistband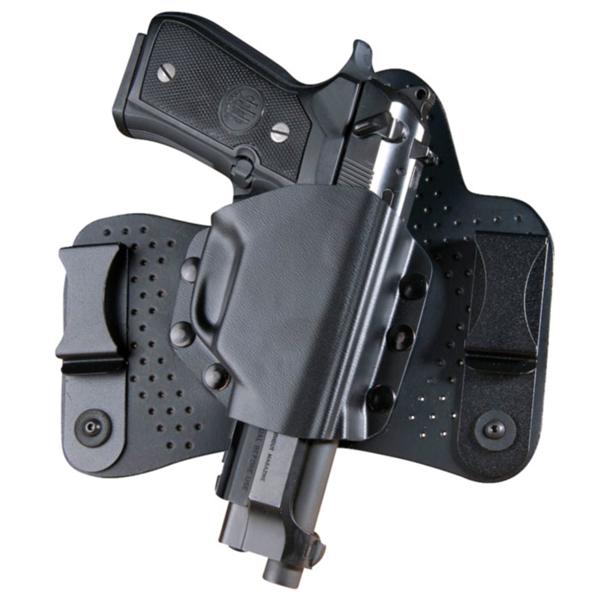 My personal favorite general purpose carry method for large guns is a hybrid-style inside-the-waistband holster. Beretta makes them for my 92FS and Px4 Storm. Here's why they're such a good solution for full size pistols:
The large leather back panel distributes the weight over a large area, so it tends to "feel" lighter.
The large surface area against your body also helps stabilize a heavier gun. Remember that Newton guy? One of his laws has something to do with body motion, mass of your pistol and stability. I think.
The kydex mold for the pistol itself has a tight snap fit so your heavy gun is locked in place.
Notice how the gun is aggressively angled forward. The angle directs the full size grip upwards, instead of backwards, so you're less likely to print from the back when carrying a gun with a tall grip.
Last but not least, carrying inside-the-waistband makes barrel length a moot point as the barrel is inside your pants. From a concealment perspective, it doesn't matter if your barrel is three, five, or 19 inches long, provided it's not so long that it interferes with your knee joint!
If you'd like to get the Beretta Blog delivered to you via email, you can subscribe here.