These detailed instructions are for a Beretta Px4, but if you have a 92/96 series, you can take advantage of this article too. There are a couple of different details, like how the takedown lever works, but everything else is pretty much the same.
The gun I'm using for this demonstration is a .40 S&W Beretta Px4 with a Crimson Trace Rail Master Pro. That's a combination light and laser unit that works with virtually any gun with a rail – like this Px4. The good thing is that it's completely out of the way for cleaning and maintenance, as you see here.
First you have to take it apart, or field strip your PX4. There is no need to completely disassemble your pistol unless something is obviously wrong with its function. And even then, full disassembly and inspection is best left to a qualified gunsmith.
When you've field stripped your Px4, you will be left with six major assemblies:
Magazine
Frame
Slide
Barrel
Recoil spring
Central block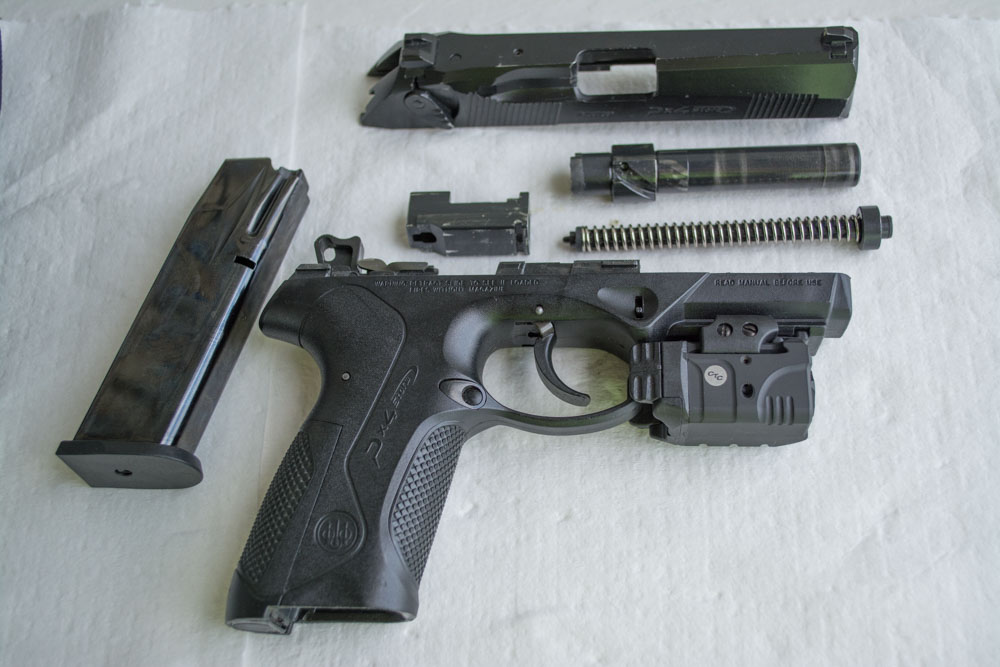 All necessary cleaning and lubrication can be done with this level of takedown.
BEFORE YOU BEGIN
Even before step 1 of the field stripping process, you need to make sure that your pistol is empty. Remove the magazine. Most importantly, rack the slide multiple times to remove the cartridge in the chamber. Now visually check the chamber. Now do it again. Lock the slide open by pressing upward on the slide lock lever while retracting the slide. When you look through the top, can you see daylight through the magazine well? Can you see that there is no cartridge in the chamber? Good. Now you're ready to proceed.
How to field strip your Px4
Step 1: Remove the slide.
Your Px4 should be decocked with the hammer in the "down" position. Using one hand, pull down the disassembly latch on both sides of the frame. Now move the entire slide assembly forward and it will come completely off the gun frame. Yes, it's that easy.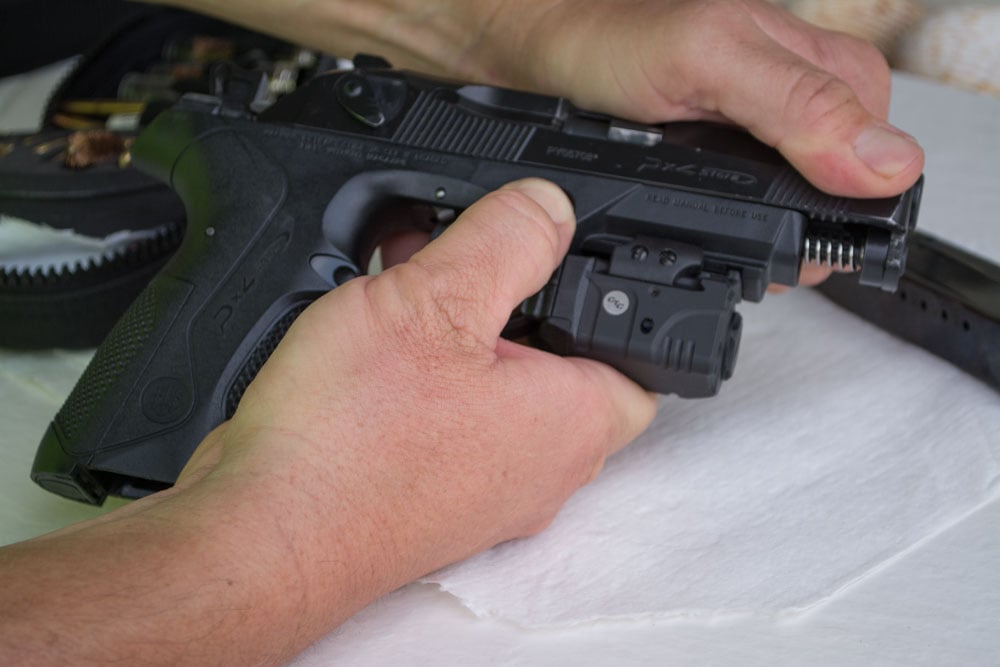 Step 2: Remove the central block and recoil spring.
The nice thing about a Px4 is that the recoil spring is captive, meaning it won't go flying off across the room when you remove it. Turn the slide upside down and pull the central block and spring out. These two parts will separate easily as the spring is inserted into a hole in the block.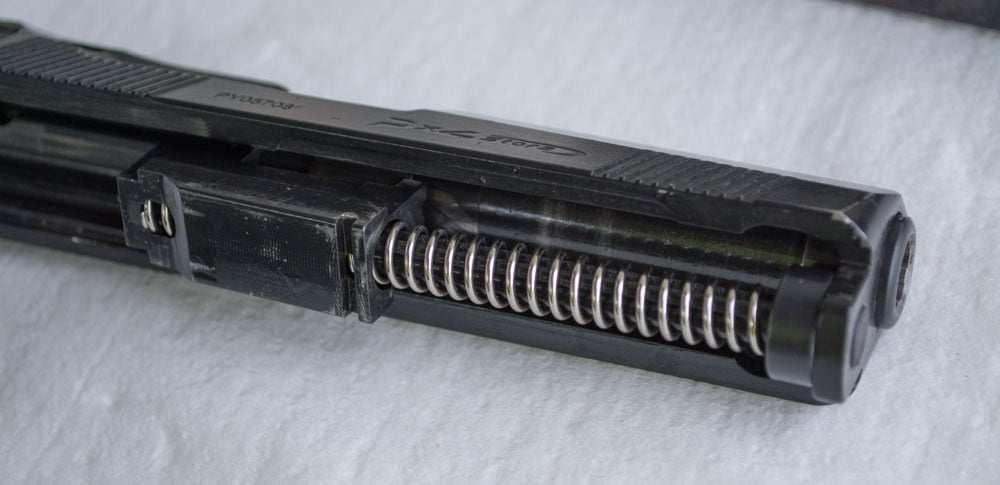 Step 3: Remove the barrel from the slide.
Another easy step. With the central block and spring removed, the barrel will lift out of the slide.
All done! With the Px4, you want to be careful with the slide lock / slide release lever. With the slide removed, it's fairly easy to knock off the frame, and the spring that holds it is a little bit tricky to reinstall. Just be careful and you'll be fine.
How to clean your Beretta Px4
First you're going to need some basic supplies. The Px4 includes a cleaning rod with a slotted end for patches and a brush, so technically all you need is cleaning solvent and lubricant.
There are dozens of gun oils and cleaning solvents on the market. Fortunately, it's pretty hard to go too wrong with any gun-specific cleaners and oils. Notice we say gun-specific. What you don't want to do is use a general purpose penetrating oil like WD-40. We love WD-40 and it's wonderful for many things, like getting bubble gum out of your hair. You may even use it to clean gun parts. Just don't rely on it as a preservative and protectant for post-cleaning use. Guns tend to get really hot, hence the need for special oil and lubricant formulations that are designed to stand up to intense heat. Since the Px4 has a polymer frame, be sure not to use solvents than can damage plastic. Generally, only degreasing products will have this issue.
We're going to pause and put in a plug for what I believe to be the best cleaning system on the market. It's called the OTIS Technology System.
It's well worth the money and the kits are designed to accommodate rifles, shotguns and pistols of various calibers. Their most basic kits will handle 9mm, 40 S&W and .45 ACP – all you need to clean the Beretta Px4.
Be sure to check out Tom's latest books! They are ON SALE now for a limited time!